HG 1/144 Destiny Gundam [Clear Color]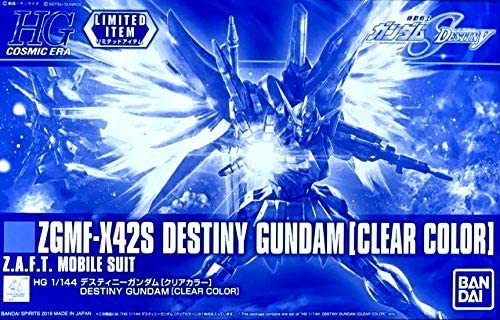 Condition:Brand New Specifics:From "Mobile Suit Gundam SEED DESTINY", the leading machine Destiny Gundam is three-dimensionalized in the HG latest format clear color!■ Completely new modeling. The double joints built into the body allow you to reproduce the forward bending action characteristic of Destiny Gundam.■ The ...Read more
---
american express

apple pay

google pay

jcb

master

paypal

visa
Description
Condition:Brand New
Specifics:From "Mobile Suit Gundam SEED DESTINY", the leading machine Destiny Gundam is three-dimensionalized in the HG latest format clear color!

■ Completely new modeling. The double joints built into the body allow you to reproduce the forward bending action characteristic of Destiny Gundam.
■ The side armor slides backward to avoid interference with the legs and has a structure that does not limit the range of motion.
■Hand parts include a hand grip that can hold a weapon and an open hand for "Parma Fiokina".
-Along with Arondaite, high-energy long-range beam gun, beam boomerang, and many other weapons are included.
What Our Customers Are Saying