HG 1/144 Gundam Base Limited Ifrit Kai [Metallic Gloss Injection]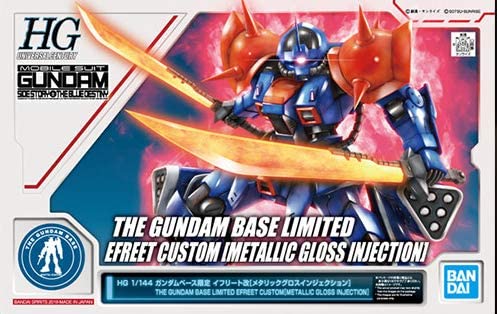 Condition:Brand New Specifics:It is a limited edition Gunpla of the official Gunpla general facility "Gundam base" for Gunpla fans all over the world.From "MOBILE SUIT GUNDAM Gaiden THE BLUE DESTINY", Efreet Kai has been released as a Gundam base limited edition with metallic gloss injection specifications.-Thoroughly ...Read more
---
american express

apple pay

google pay

jcb

master

paypal

visa
Description
Condition:Brand New
Specifics:It is a limited edition Gunpla of the official Gunpla general facility "Gundam base" for Gunpla fans all over the world.

From "MOBILE SUIT GUNDAM Gaiden THE BLUE DESTINY", Efreet Kai has been released as a Gundam base limited edition with metallic gloss injection specifications.
-Thoroughly reproduce the shape of the Efreet Kai aircraft! Based on the MS-08TX Efreet, it thoroughly reproduces the body shape of each part that was made larger and had higher output to mount the EXAM system.
●Heat saber can be suspended on the waist!
-Reproduce the shape and color of spike armor!
-Reproduce the legs with 6 missile pods and high output vernier!
●Clear parts are used for the heat saber blade.
What Our Customers Are Saying