1/144 HGUC REVIVE RX-77-2 Guncannon 21st CENTURY REAL TYP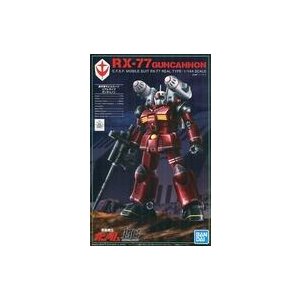 Condition:Brand New Specifics:From "Mobile Suit Gundam MSV", the real type color Ver. Of the 21st century version arrangement produced by Master Kawaguchi is commercialized in the HGUC series.Adopting a chic molding color, a water slide decal that reproduces the characteristic marking of the real type series is include...Read more
---
american express

apple pay

google pay

jcb

master

paypal

visa
Description
Condition:Brand New
Specifics:From "Mobile Suit Gundam MSV", the real type color Ver. Of the 21st century version arrangement produced by Master Kawaguchi is commercialized in the HGUC series.
Adopting a chic molding color, a water slide decal that reproduces the characteristic marking of the real type series is included!
In addition, a full-color package with an MSV taste design.
Uses a chic molding color.
The impression is significantly different from the regular product version, which uses the molding color of the animation setting image, which uses many primary colors.
Includes water slide decals that reproduce the characteristic markings of the Real Type series.
Includes markings that bring out the unique taste of the MSV kit, using a lot of line marks, aircraft numbers, caution marks, etc.
The body kit adopts the new birth ~ REVIVE ~ HGUC with a more flexible range of motion!
Full color package with MSV taste design.
The design inspired by the 1/100 MSV kit package released in the 1980s is reproduced with a photo-based digital rama.
Reproduce the spray missile launcher on both shoulders with new modeling!
The spray missile launcher, each equipped with 12 missiles, is reproduced with rich details.
What Our Customers Are Saying