MG 1/100 Gundam Barbatos [Iron Blood Coating]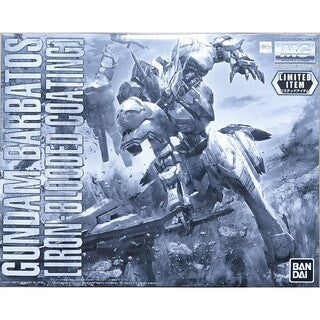 Conditions:Brand New Specifics:From "Mobile Suit Gundam Iron-Blooded Orphans", MG 1/100 Gundam Barbatos is now available with a profound feeling of iron blood coating!■ The overwhelming density and amount of information unique to MG are further enhanced by the special specifications that express the heavy brilliance of...Read more
---
american express

apple pay

google pay

jcb

master

paypal

visa
Description
Conditions:Brand New
Specifics:From "Mobile Suit Gundam Iron-Blooded Orphans", MG 1/100 Gundam Barbatos is now available with a profound feeling of iron blood coating!
■ The overwhelming density and amount of information unique to MG are further enhanced by the special specifications that express the heavy brilliance of metal.
■ The internal structure of the Gundam frame deeply examines the settings in the play and reproduces the details. Silver plating is used for the cylinder.
■ The chest Ahab reactor is equipped with a rotating gimmick.
■ The movable shaft built into the upper body allows the internal frame, cylinder, and armor to work together. This makes it possible to produce a dynamic pose.
■ The cylinder on the shoulder reproduces the mechanical structure that follows the movement of pulling out. You can express the aggressive pose of Barbatos.
■ The knee can move in conjunction with the frame and cylinder. By pulling out the parts on the back of the knee, the range of motion is expanded and a natural standing knee is possible.
■ Reproduce the swing to the left and right and the axis movement of the hip joint in the standby posture. You can enjoy the characteristic waiting pose overlooking.
■ Three types of hand parts are included and can be replaced. Weapons are designed to be attached to the palm of the hand together with the fingers of the weapon holder.
■ Mace can slide the grip and tip.
■ The barrel of the smoothbore is equipped with a slide / folding gimmick. Pursuing playability with a lock mechanism.
What Our Customers Are Saying