RG 1/144 Gundam Base Limited Gundam Exia [Trans-Am Clear]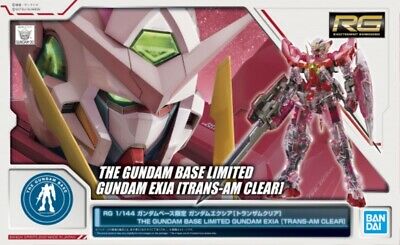 Conditions:Brand New Specifics:This is a limited edition Gunpla of the official Gunpla comprehensive facility "Gundam Base" for Gunpla fans all over the world.■ Gundam Exia from "Mobile Suit Gundam OO" is now available in Trans-Am Clear, which is based on the image of Trans-Am mode!■ The advanced MS joint allows you to...Read more
---
american express

apple pay

google pay

jcb

master

paypal

visa
Description
Conditions:Brand New
Specifics:This is a limited edition Gunpla of the official Gunpla comprehensive facility "Gundam Base" for Gunpla fans all over the world.
■ Gundam Exia from "Mobile Suit Gundam OO" is now available in Trans-Am Clear, which is based on the image of Trans-Am mode!
■ The advanced MS joint allows you to reproduce human movements!
■ GN drive is removable. The GN code pursues the texture and details imaged from the plasma tube array!
■ The GN condenser realistically reproduces the brilliance and texture of metal with clear parts and realistic decals including the inside. The GN particle supply code is reproduced with hologram PET!
■ Includes 7 swords and shields from which the development code "Seven Swords" was derived. Plated parts are used for the blade of the GN sword.
■ A limited edition pedestal with a Gundam-based logo is included!
What Our Customers Are Saying