RG 1/144 Gundam Base Limited Strike Rouge Grand Slam Equipped Type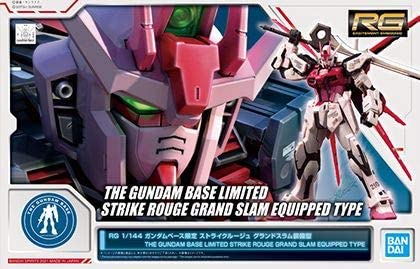 Condition:Brand New Specifics:This is a limited edition Gunpla of the official Gunpla comprehensive facility "Gundam Base" for Gunpla fans all over the world.From "Mobile Suit Gundam SEED", the Strike Rouge on which Cagalli Yula Athha is on board is now available in the RG series!■ Three-dimensional sword "Grand Slam" ...Read more
---
american express

apple pay

google pay

jcb

master

paypal

visa
Description
Condition:Brand New
Specifics:This is a limited edition Gunpla of the official Gunpla comprehensive facility "Gundam Base" for Gunpla fans all over the world.
From "Mobile Suit Gundam SEED", the Strike Rouge on which Cagalli Yula Athha is on board is now available in the RG series!
■ Three-dimensional sword "Grand Slam" with RG compliant quality! Plating is applied for a profound finish!
■ Comes with decals that symbolize Strike Rouge!
What Our Customers Are Saying